MC930-CC Cash & Credit Card to Tokens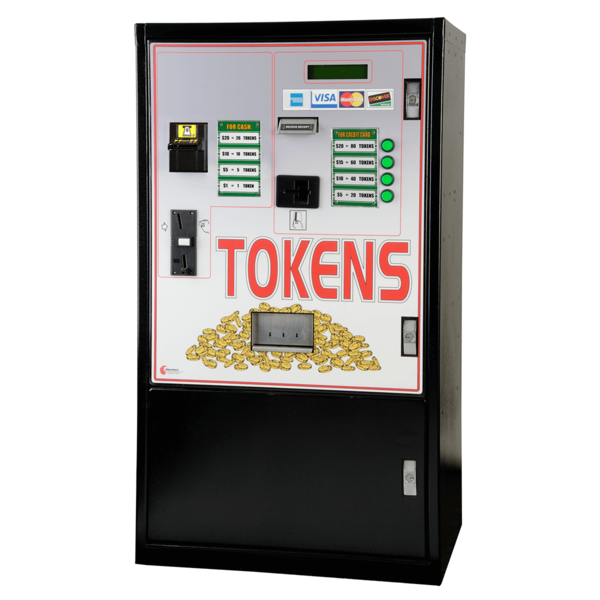 Description
MC930-CC
Front Load Console / 3 Hoppers / 1 Card Reader / 1 Bill Acceptor
Standard's Modular Series Credit Card changers allow credit card acceptance and tokens dispense. Available in several different processors, Nayax cellular or internet based, USA Technologies ePort, and CryptoPay wireless. The MC930 -CC has your choice of the 4-button Package or Credit Selection kits or the 3-button Pulse Selection kit. The Package/Credit Selection Kits allow owners to set-up a package price and number of tokens they want to dispense for cash and/or credit card acceptance. The Pulse Selection Kit presents the cost of one token initially, and the customer adds tokens, then pays when they have reachedd the number of tokens they wish to purchase.
The MC930-CC is a machine that ideal for use in arcades, game rooms,FEC's, zoos, museums, and aquariums for selling tokens. With two steel mega-hoppers, holding up to 16,400 "quarter-sized" tokens -- that will help keep customers happy on those busy days. The MC930-CC has also been used by zoos & aquariums to sell tokens for train rides, fish food dispensers, or elephant and camel rides. Mall carousels, festivals and carnivals have used these machines for ride and game tokens as well.
Specs
MC930-CC Change Machine Features:
Front Load configuration for Tokens

(1) Default Nayax VPOS/AMIT or VPOS Touch CC Kit (purchased separately)

(1) Coinco Vantage Bill Acceptor - accepts $1 - $20 Bills - with 1,000 Bills Stacker(Coinco Vantage, MEI (Mars) AE2600, Pyramid APEX and Cashcode Currenza available)
(3) Steel, Modular Series Coin Mega-Hoppers - holds up to 16,400 Tokens
Heavy gauge steel cabinets with (2) T-handle Locks
(1) Stainless Steel Coin Cup
High gloss, powder-coat enamel paint finish with applied Lexan graphics decal
ETL certified in accordance with UL and CSA standards
Two Year Limited Warranty
SPECIFICATIONS:
ACCEPTS:
Credit Cards & Cash (Visa, MasterCard, Discover, AmEx) $1 | $5 | $10 | $20
DISPENSES:
Tokens ONLY on Credit Cards, Tokens or Coins on Cash Acceptance
CAPACITY:
16,400 Quarter-sized Tokens
DIMENSIONS:
50"H x 28"W x 18"D
SHIP WEIGHT:
390 lbs.
Reviews
---