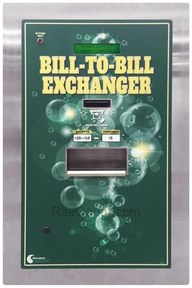 BX1010RL-G
Rear Load / Single-Note Bill Dispenser
Standard's BX - Bill Exchanger Series machines are designed to be an on-premise "automated attendant", providing bill change for higher denominations. Excellent locations for Bill Exchanger machines are attended or unattended coin laundries, card laundries, car washes, museums, zoos and aquariums, paid parking lots; anywhere that would allow more customer convenience by breaking higher denomination bills into smaller denomination bills needed for your transactions. Why make your customers use $20 bills when a $5 bill would be more convenient, and lead to higher revenues.
The Glory MiniMech is a single note dispenser that is specifically designed for non-banking applications. It features short bill travel distances ad the bill are dispensed horizontally (long end down).
New and used bill are easily loaded into the note tray that helps keep the edges aligned:and the reject area is in the same tray. The MiniMech will hold up to 1,000 bill of a single denomination.
BX1010RL Change Machine Features:
Rear Load configuration for Bill Exchange
(1) MEI (Mars) Bill Acceptor - accepts $1 - $20 Bills - with 500 Bills Stacker
(1) Single-Note GLORY Bill Dispenser - holds to 1,000 (new) Bills
Heavy gauge steel cabinets with solid-welded seams (no rivets or spot welds)
High gloss, powder-coat enamel paint finish
Stainless Steel Faceplate with applied Lexan Graphics Decal
(2) T-handle Locks with Ace Lock Plugs
One Year Warranty on Glory Bill Dispenser unit
Two Year Limited Warranty
Made in the USA
SPECIFICATIONS:
ACCEPTS:
$1 | $5 | $10 | $20
DISPENSES:
One Denomination of Bills
CAPACITY:
750 (Used) - 1,000 (New) Bills
DIMENSIONS:
31"H x 18"W x 18"D Add 2" to all four sides for the face-plate dimensions.
SHIP WEIGHT:
140 lbs.
Price: $4,378.00
$5150.00

---
View pdf instructions