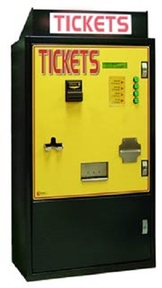 MC950-TIK
Front Load / 1
1 Coin Hoppers
Standard's Modular Series Model #MC950-TIK is another of our versatile changers allowing your choice of credit card acceptance or cash acceptance (or both) and ticket dispense. It also allows you to dispense coin change along with the tickets. Available in your choice of dial-up or hi-speed communication with the Datacap Systems Tran products and several different certified card processors. The MC950-TIK can be equipped with 4-button Package Select kit that allows owners to set-up the package prices and number of tickets they want to dispense, and an LCD display that provides prompts and feedback to the user. If the customer overpays in cash, the machine will dispense the tickets and appropriate change when equipped with one or two coin hoppers.
The MC950-TIK is a machine that is ideal for use in admissions or proof-of-purchase tickets for carnival rides, amusement parks and fairs. Zoos have used our credit card-to-tickets change machines to sell tickets for train rides. Haunted Houses, Pumpkin Patches, Festivals, Fairs and Carnivals have used these machines to dispensed tickets for rides, games, food or beverages.
MC950-TIK Change Machine Features:
Front Load Console for Tickets
(1) Bill Acceptor - Accepts $1 - $20 bills - with a 500 bills stacker
(1) Entropy 1.156" Fanfold Paper Ticket Dispenser - holds up to 10,000 fanfold Tickets
(1) Modular Series Steel Coin Hopper - holds up to 3,200 Quarters ($800)
Heavy gauge steel cabinet with 2 doors on separate locked spaces
(1) Stainless Steel Ticket Dispenser Cover Plate
High gloss, powder-coat enamel paint finish with applied Lexan graphics decal
ETL certified in accordance with UL and CSA standards
Two Year Limited Warranty
SPECIFICATIONS:
ACCEPTS:
$1 | $5 | $10 | $20
DISPENSES:
Tickets and Change (Optional)
CAPACITY:
4,000 to 8,000 Fanfold, Paper Tickets
DIMENSIONS:
50"H x 28"W x 18"D
SHIP WEIGHT:
375 lbs.
Price: $7,437.50


---
View pdf instructions